Now that 2022 is over, we can look at the past year's real estate activity and predict what 2023 might look like
The chart below shows single-family home sales in Portsmouth for 2022. The median price ended at $730,000, an 8.2% drop from 2021.
On the other hand, Portsmouth condos enjoyed a sizable increase in median prices. A 72.1% price increase to a median of $954,900.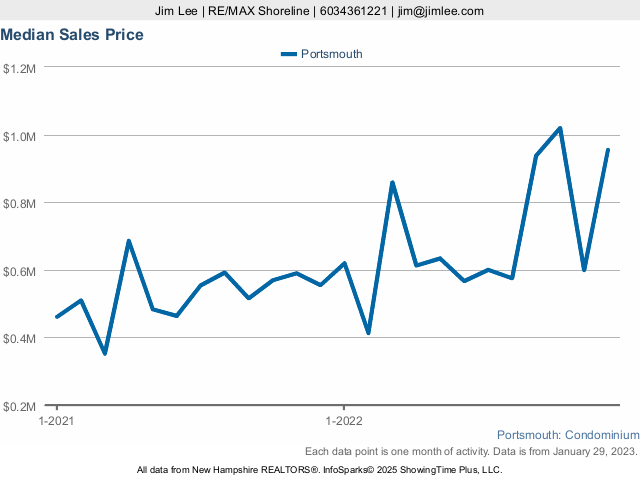 Closed sales for both single-family homes and condos in December 2022 were 78, a 27.8% drop but mainly attributable to the seasonal nature of real estate closings. You can note on the graph below that September 2021 closings were 110 compared to 108 in the same month in 2022.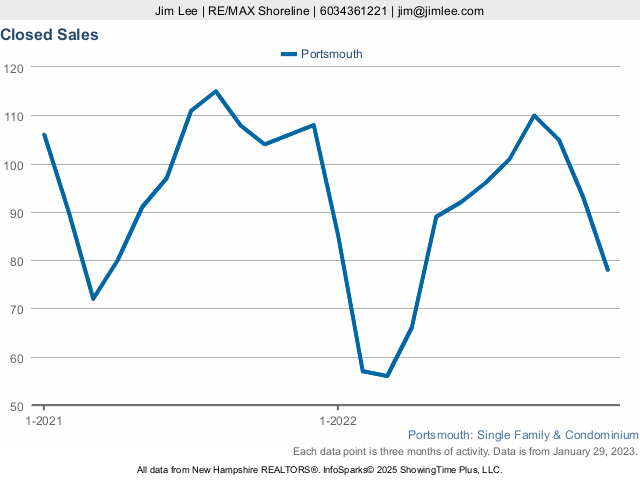 A search of the Multiple Listing Service (MLS) shows 43 current active listings, both single-family homes, and condos, with a low price of $279,900 to a high of $3,890,000.
Now let's take at look at the data available year to date in 2023.
Pending sales are a good indicator of future sales and the market's health because pendings will typically become closed sales in the next 30 to 60 days. Portsmouth today shows 22 pending and 16 closed sales year-to-date in January 2023.
The rate of sales or the absorption rate is also a good market indicator. That number tells us how long it would take to sell all the current, active listings. Over 6 months indicates a buyer's market, and under 6 months tells us it's a seller's market. The rate is calculated by taking the number of homes sold within a period—say, over 30 days—and dividing that number by the total number of available homes in the market. Dividing the 16 month-to-date sales in January by the 43 active listings gives us an absorption rate of 2.69 months. That is a strong indicator that we are still in a seller's market. That said, rising interest rates have dampened sales somewhat, and the chaotic market in the past two years is setting into a more normal one.
After crunching all the numbers and looking into our magic real estate crystal ball, we're predicting a lively market in 2023 for Portsmouth and most of the New Hampshire Seacoast.
The usual disclaimers apply. To sell your house, it must be priced to the market, and sellers should be prepared to negotiate with buyers. Qualified buyers can buy a nice home, but they may have to do a little more looking than in some years past.
We're happy to provide the numbers for your part of the New Hampshire Seacoast and southern Maine. One thing we pride ourselves on is knowing the numbers and using them to serve our clients, whether you're selling or buying.
Give us a call or email, and let's talk about New Hampshire and Maine real estate.